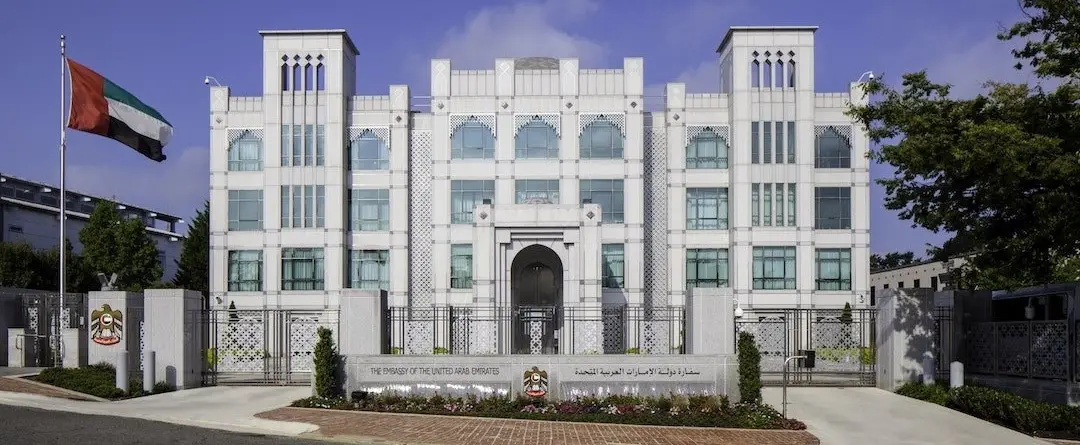 The Embassy of the United Arab Emirates (UAE) in Washington, DC leads the UAE's diplomatic mission in the United States (US). From the very beginning, this partnership was built on three shared principles: security, prosperity and a common outlook for global peace.
The UAE Embassy officially opened its doors in 1974 and has since served as a fundamental part of the UAE-US alliance. Over the years, the Emirati government also established consulates in Houston, Los Angeles and New York City.
As the current UAE Ambassador to the US, His Excellency Yousef Al Otaiba has worked to expand bilateral relations in areas such as foreign policy, military cooperation, non-proliferation, trade, cultural exchange, and humanitarian aid. Since 2008, he's influenced a number of shared milestones between the two countries including the 123 agreement for peaceful nuclear cooperation and the Abraham Accords agreement with Israel.
Ambassador Al Otaiba and the UAE Embassy have also supported groundbreaking UAE-US partnerships in fields such as healthcare, education, sports and culture, youth development and more. These efforts have guided the UAE's strong relationship with US institutions such as the Special Olympics, Children's National Hospital, the Harvard Kennedy School, Johns Hopkins, the Cleveland Clinic and New York University.
In addition, the UAE Embassy has helped forge new opportunities for global engagement and collaboration between the UAE, the US and the world. Setting an example for religious tolerance, Ambassador Al Otaiba has hosted several interfaith Iftars in Washington, DC. He also endorsed the first very Special Olympics World Games in the Middle East, as well as Expo 2020 Dubai, the most inclusive and diverse expo in history.
Moving forward, the UAE Embassy in Washington, DC is committed to working with the US government to tackle some of the biggest challenges faced around the world. This includes but is not limited to the COVID-19 pandemic, climate change, renewable energy, sustainable development, food security, bilateral trade and economic cooperation.
To learn more about UAE-US relations and consular services, visit the UAE Embassy website and social channels below: