In 2022, the Smithsonian Folklife Festival featured United Arab Emirates: Living Landscape | Living Memory in partnership with the UAE Ministry of Culture and Youth, UAE Ministry of Foreign Affairs and International Cooperation and the UAE Embassy in Washington, DC.
Organized annually by the Smithsonian Center for Folklife and Cultural Heritage, the Folklife Festival highlights diverse communities, regions and countries as a way to share their culture with Americans and others from around the world. Established in 1967, the Folklife Festival is the Smithsonian's longest-running and largest public program reaching millions onsite and online.
Among the many featured participants were mother-daughter falconry duo Ayesha and Osha Al Mansoori. The pair held flying demonstrations with live birds of prey throughout the Festival in partnership with DC-area falconer Phung Luu.
Dubai-based band NOON also performed at the Festival. The group combines eclectic jazz, rock and traditional Middle Eastern elements to create a truly unique sound. With its members hailing from Indian, Egyptian and English backgrounds, NOON's music is fueled and inspired by the UAE's cultural diversity.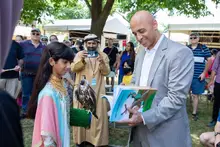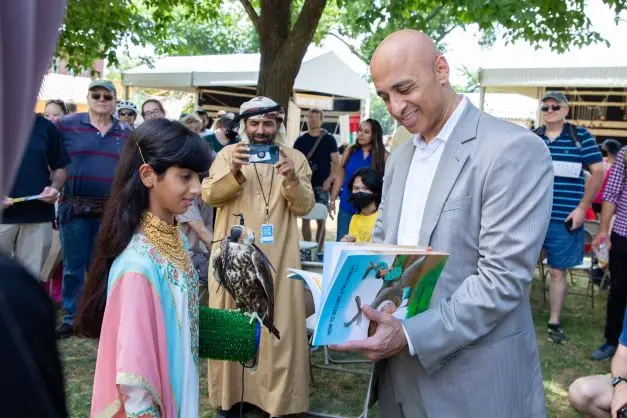 Shaped by the natural environment and strongly connected to the people, places, and ideas beyond its borders, the cultural heritage of the UAE has been a key component of its rapid transformation since its founding in 1971. Now a modern nation focused on economic diversification and global engagement, Emirati traditions will carry into the next 50 years of innovation and progress.
The UAE's partnership with the United States is central to its vision for a sustainable future. Shared values are at the heart of the UAE-US relationship. The two nations' profound ties are reflected in many longstanding bilateral exchanges focused on the arts, space exploration, and environmental conservation.
The UAE has a long history of partnering with the Smithsonian Institution and other museum, research and educational organizations to promote cross-cultural exchange and build solutions in the areas of habitat loss, climate and the protection of endangered species.
In 2016, researchers from the Smithsonian Conservation Biology Institute worked with the Environment Agency – Abu Dhabi to reintroduce a herd of scimitar-horned Oryx into the wild.
Smithsonian conservationists, researchers and curators have also exchanged information on best practices, training and museum development with UAE cultural organizations.
An MOU was signed in 2017 to enhance exchanges and create new opportunities for collaboration between the Smithsonian and UAE-based cultural and research organizations.