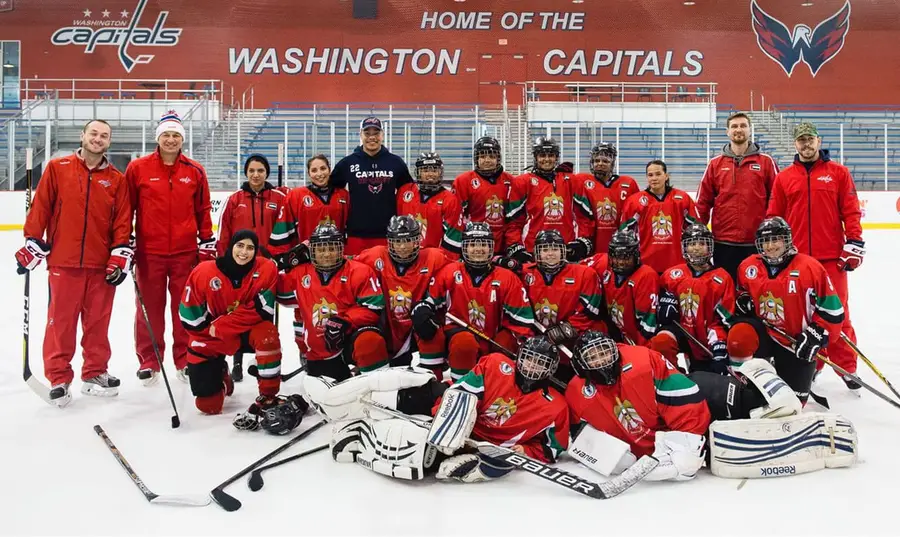 In celebration of the National Hockey League's "Hockey is for Everyone" month, the UAE Women's National Hockey Team toured North America from Wednesday, February 7 to Sunday, February 18, 2018. The team met with professional and local hockey teams, government officials and community leaders in Washington, DC, Chicago, and Ottawa. 
The team kicked off its tour in DC, where the players attended a Washington Capitals practice at the Kettler Iceplex. The team met Capitals alumnus Peter Bondra and current players Madison Bowey and Chandler Stephenson. The squad also scrimmaged with the Washington Pride, a local women's team, at the Capital One Arena. 
"These girls, their skill level is through the roof for them just starting five or six years ago," said Bowey. "Definitely, I'm impressed with them. The most important thing for me was just seeing how much they loved it and seeing the smiles on their faces."
"It means a lot for us to be here and having this experience with NHL players," said Fatima Al Mazrouei, a member of the team. "I encourage every woman in the Middle East to stick with what they love as a sport and keep doing [their] best in it."
Off the ice, players met Illinois Senator Dick Durbin, US State Department officials and UAE Ambassador to the US Yousef Al Otaiba. They discussed the role of sports in breaking down stereotypes and building lasting friendships.
To conclude its time in Washington, the team participated in a ceremonial puck drop at the Capitals' game against the Columbus Blue Jackets in celebration of "Hockey is for Everyone" month. 
The team next traveled to Chicago, where the players attended the Blackhawks' game against the Anaheim Ducks. At the game, the squad celebrated "Hockey is for Everyone" month alongside the US Paralympics Sled Team. The UAE players also partnered with the Inner-City Education Program to host a hockey clinic for local youth at the MB Ice Arena. 
The team concluded its tour in Ottawa, Canada. While in Ottawa, the players skated on the Rideau Canal, practiced with local women's team the Kanata Rangers and met Ottawa Mayor Jim Watson. The UAE Embassy in Canada hosted the team for dinner and a conversation about the players' roles as athletes and cultural ambassadors. On the final night of the visit, the team attended the Ottawa Senators' game against the New York Rangers.