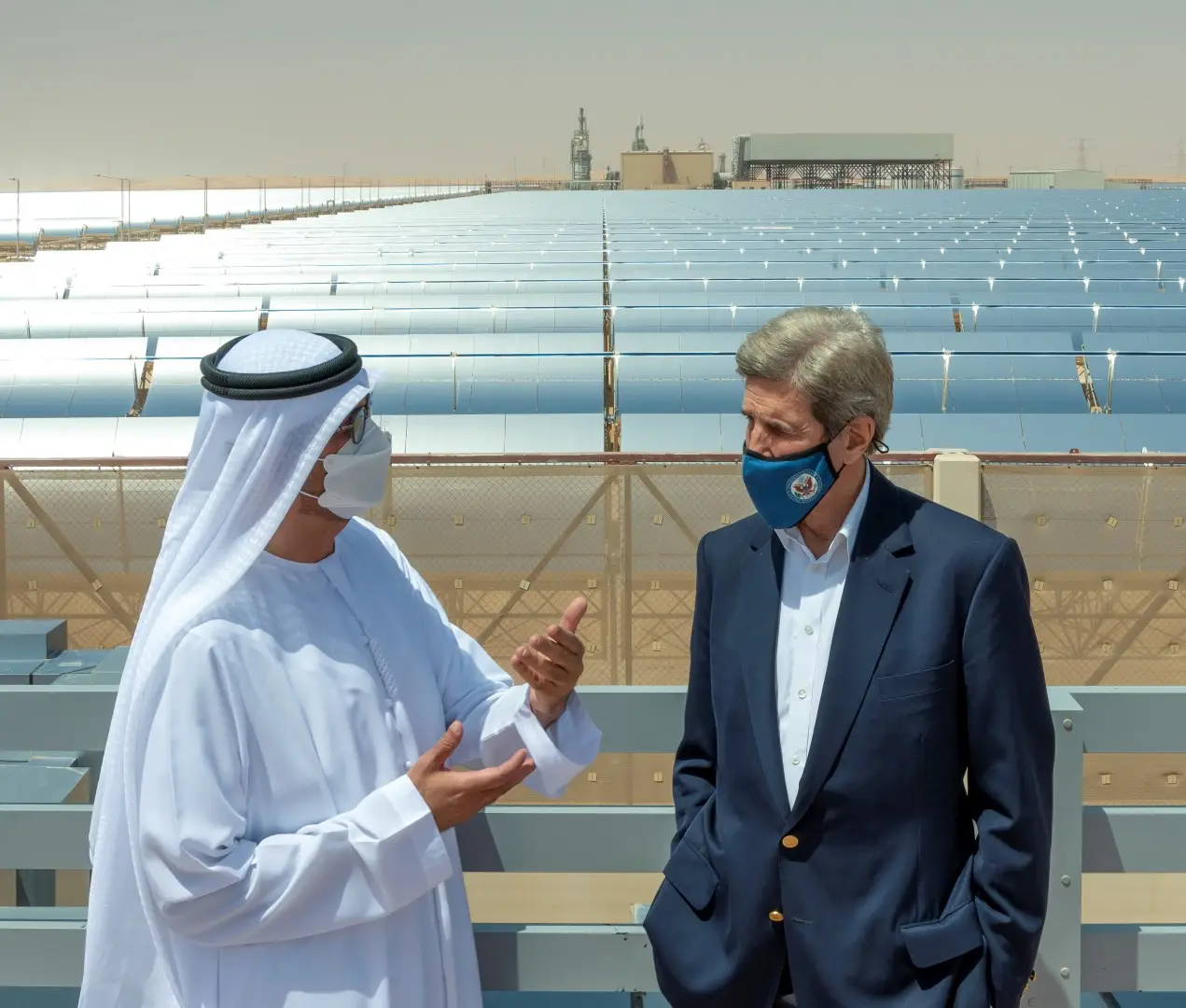 UAE-US climate cooperation is driving advances in sustainability and clean energy technology.
UAE-US Initiatives
Cooperation with the United States is central to the UAE's climate plan. The UAE and US together are spearheading the Agriculture Innovation Mission for Climate (AIM for Climate), a joint initiative officially launched at COP26 with a growing coalition of support from over 500 partners, which now includes 50 countries. AIM for Climate has already doubled the initial investment of $4 billion to $8 billion as of November 2022, to accelerate innovation for climate-smart agriculture and food systems over the next five years.
In November 2022, the UAE and US launched the UAE-US Partnership for Accelerating Clean Energy (PACE), which will mobilize $100 billion and deploy 100 new gigawatts (GW) of clean energy in the US, UAE and emerging economies around the world by 2035. The initiative represents a shared commitment by two major energy producers to a responsible and ambitious energy transition. In January 2023, UAE and US officials announced that $20 billion will be allocated to fund 15 GW  of clean and renewable energy projects in the US before 2035. This first wave of investments under PACE will be financed through $7 billion in cash equity from the private sector that will catalyze $13 billion through US debt financing and other instruments.
In addition to these initiatives, regular government-to-government coordination advances shared priorities on climate action. US Special Presidential Envoy for Climate John Kerry has traveled several times to the UAE, and he hosted COP28 President-Designate Dr. Sultan Al Jaber at the White House in March 2023 to discuss opportunities for raising climate ambition on the road to COP28. The two sides coordinate regularly on policies to lead a well-managed energy transition that delivers enhanced climate action alongside energy security and affordability.
Click here to learn about the actions and initiatives the UAE Special Envoy for Climate Change is leading to address the climate crisis.
UAE Adoption of Clean Energy
The UAE has pioneered renewable energy in the heart of the hydrocarbon industry and has committed to reach net zero emissions by 2050. This complements the UAE's second Nationally Determined Contribution (NDC) submitted in December 2020, which made it the first country in the region to commit to an economy-wide reduction in greenhouse gas emissions by 2030. The UAE updated its third NDC in July 2023 by increasing its emissions reduction target from 31 percent to 40 percent by the end of the decade.
The UAE is home to three of the largest and lowest-cost solar plants in the world and has integrated peaceful nuclear power into its energy grid. With the support of US partners, the Barakah Nuclear Energy Plant will save up to 21 million tons of carbon emissions each year once fully operational. Once all four reactors are operational, the Barakah Nuclear Energy Plant will supply 25 percent of the UAE's electricity.
The UAE is a reliable producer of low-carbon energy and will continue to meet global energy needs today while investing in new energy systems of tomorrow. Recognizing that the world will continue to rely on oil and gas for the midterm, the UAE is a leader in carbon capture, and is reducing the carbon intensity of its production operations. It operates the region's first industrial-scale carbon capture, utilization and storage (CCUS) facility, which captures 800,000 tons of carbon dioxide and will expand six-fold by 2030. In addition, the Abu Dhabi National Oil Company now sources 100 percent of its grid electricity from zero-carbon nuclear and solar power. 
"The US and the UAE are cooperating on a number of initiatives and we've had a real partnership on this whole issue of the climate crisis."
– US Special Presidential Envoy for Climate John Kerry, October 2022
Through over 15 years of R&D and policy work, the UAE has brought the cost of solar power below that of natural gas. Solar energy is now available at 1.32 cents per kilowatt hour, the lowest rate in the world.
Dubai Electricity and Water Authority (DEWA) is working with GE to build the Mohammed bin Rashid Al Maktoum Solar Park in Dubai, the world's largest single-site solar project. At its planned total capacity, it will power up to 1.3 million homes. The solar park will use GE's liquid-cooled solar inverters to convert solar panel output to grid-ready electrical currents.
Meanwhile, the Noor Abu Dhabi solar park, which began operations in June 2019, will offset the UAE's carbon dioxide emissions by the equivalent of 200,000 cars per year. UN Secretary General António Guterres visited the site after it launched, calling it "the kind of clean and efficient solution needed to address the global climate emergency."