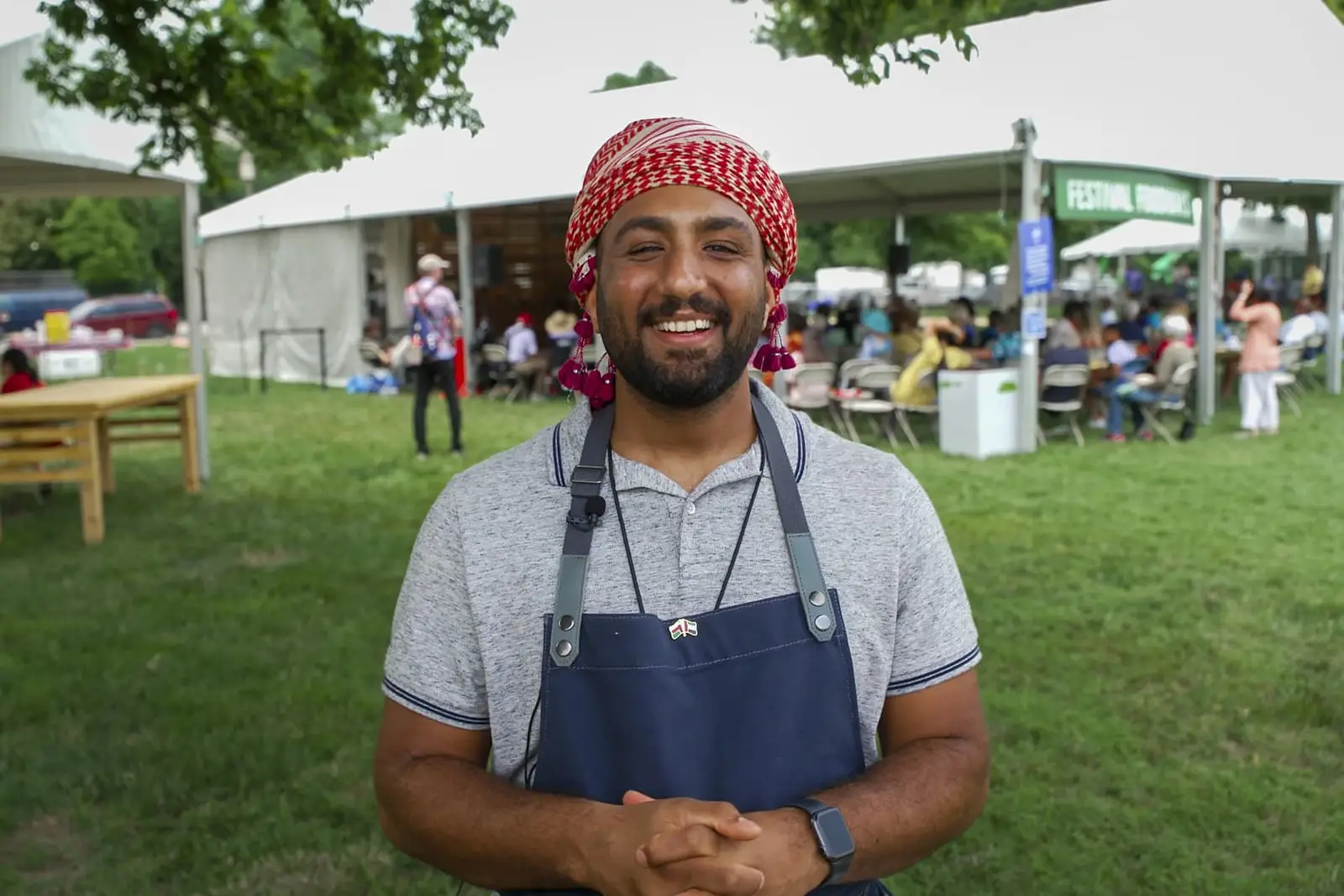 By day, Mommin Al Rawahi works as an engineer in the oil and gas industry, but his real passion is cooking and barbecuing in an authentic Omani style. From Oman, Mommin lives in the UAE with his family and represented the true diversity of the UAE at the 2022 Smithsonian Folklife Festival where he taught visitors to make Omani shuwa, a traditional slow-cooked marinated lamb dish that takes up to 24 hours to prepare.
"My wife and mother greatly inspire me. They encouraged me to start my Al Sa'af company to showcase my authentic cooking and keep it from becoming too commercial. I learned how to cook this way by watching my mother and grandmother in the kitchen and helping where I could.
"During the pandemic a lot of friends started telling me they miss the Omani shuwa. Omanis and Emiratis are very close…so I started making Omani shuwa at home in my backyard to bring people together safely. It wasn't a business first, it was for their families during the pandemic.
"With authentic pit cooking, you're basically blind. Once the meat is inside the ground you're blind, you don't have any idea of the temperature, just the time… Authentic cooking takes 24 hours and some people cook the meat for two days. That's what makes it special, it's that waiting – is it going to be ready or not? Once you take it out and it's ready, that's what makes you say 'I did it!'
"American pitmasters do a lot of smoking of meat. For them, they're very interested in knowing how we do it in the ground without knowing the temperature of the meat. It was very nice having Americans coming up to me and asking me what kind of wood I use. They tell me they use cherrywood and I tell them I use mesquite. I had someone tell me today he's going to bring me cherry wood for me to try cooking shuwa. They are very friendly and interested in our culture and what we do in the UAE."