Women are the driving force behind the UAE's initiatives to stay on the cutting edge of science and technology. Learn about 8 Emirati women who are generating a significant impact in STEM fields.
Space
Sarah Al Amiri
Her Excellency Sarah Al Amiri, UAE Minister of State for Public Education and Advanced Technology, is the Chairwoman of the UAE Space Agency.
HE Al Amiri's broad mandate includes enhancing the contributions of advanced sciences to the development of UAE and its economy.
The Hope Probe, which successfully began its journey to Mars in July 2020, has reached Mars and begun transmitting data about the atmosphere and climate. HE Al Amiri shared how the mission is helping the Emirates develop its science and technology sector, and creating new opportunities for engineers and scientists in the UAE.
"Our science team is 80% women. They are there based on merit and based on what they contribute towards the design and development of the mission."
As a trailblazing woman in STEM, HE Al Amiri addressed her experience as a female scientist in the UAE: "Personally, it's not been a challenge at all. Most science graduates in the UAE are women, and 50 percent of our employees at the space program are women. So we don't usually see the same trend of inequality that you see globally."
She joined her fellow UAE astronauts at the Johnson Space Center in Houston and is training with NASA Astronaut Group 23 as part of a 2020 agreement between NASA and the UAE's Mohammed Bin Rashid Space Center (MBRSC).
A member of The American Society of Mechanical Engineers, Al Matrooshi received a bachelor's degree in mechanical engineering from the United Arab Emirates University in 2015 and previously worked as an engineer at the National Petroleum Construction Company.
Having dreamed about being an astronaut from a young age, Al Matrooshi reflects on the significance of her selection: "If I can do it, then you can do it too. If no one has done it yet, then you just go ahead and be the first. Always set high goals and ambitions for yourself. If you are shooting for the Moon and you don't reach, you'd still fall on to the stars."
Heyam Al Blooshi
Heyam Al Blooshi, a UAE Space Agency engineer for the Emirates Mars Mission, has always had a passion for space science.
Following her graduation from Khalifa University with a degree in mechanical engineering, she worked as a research fellow at NASA's Ames Research Center, where she focused on the development and improvement of grey water filtration systems. Once she returned to the UAE, her work as a planning engineer on GASCO's Ruwais Fractionation Plant made her the first female Emirati mechanical engineering graduate to work full time in the on-shore field.
According to Al Blooshi, "The purpose of [the Emirates Mars Mission] is to inspire the young generation to pursue a STEM-oriented field which are the building blocks for economic diversification. That is the main objective here."
Alia Al Mansoori
Aspiring astronaut Alia Al Mansoori's work integrates both space and biology. Her research focuses on heat shock proteins and their ability to protect the human body from foreign conditions outside of the Earth's atmosphere.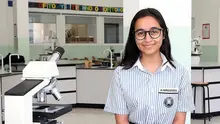 At the age of 15, Al Mansoori's Genes in Space experiment was selected for testing aboard the International Space Station. Following the successful completion of her experiment by NASA Astronaut Peggy Whitson, the 2018 publication of Al Mansoori's findings has allowed scientists to continue her work and further explore DNA science in space.
Today, Al Mansoori is looking to attend the University of Edinburgh and pursue a career in biological research. However, her main goal is to go to Mars one day – and the launch of the Hope Probe is the first step to making Al Mansoori's dream a reality.
"The Hope probe launch is something I ... am really proud of," she said. "When I was young, we didn't have these (achievements in space). I know if we did, it would've increased my passion for this subject even more. That is going to be one of the outcomes of the Emirates Mars Mission: Young kids will be excited to take up science - not just space sciences - in the future, and that's always a plus."
Food and Water Security
Mariam Almheiri
Her Excellency Mariam Almheiri, UAE Minister of Climate Change and Environment, focuses on enhancing the UAE's conservation efforts, combating climate change, and protecting the country's ecosystems through developing and implementing effective policies and initiatives. Her work includes monitoring national food stocks and water supply, channeling investments in food and water technology innovation, and building international partnerships in this area.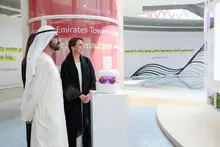 With an education in mechanical engineering and prior experience in strategic planning of water resources and nature conservation affairs, she is working toward achieving the food security objectives outlined in the "UAE Centennial 2071" five-decade government plan. Her goal is to ensure that the right technologies and supply chain systems are in place to ensure a sustainable, healthy food and water supply for generations to come.
HE Almheiri shares her perspective on her work in this critical sector: "Every minister of agriculture, every minister that deals with food, is actually dealing with food security. But we are actually going right to the specifics, and ensuring that we're taking the holistic approach. Because it's not just about growing food. It's about nutrition. It's about strategic storage."
Medicine
Dr. Fatima Alkaabi
Dr. Fatima Alkaabi is head of hematology and oncology and acting deputy chief medical officer at the Sheikh Khalifa Medical City (SKMC).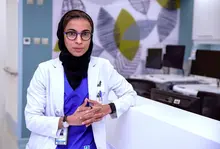 During the coronavirus pandemic, she has worked around the clock alongside other UAE frontline healthcare workers to give patients the best possible care and has helped lead a research effort to develop a potential stem cell treatment for coronavirus symptoms. The treatment, still in an initial exploratory phase, would aim to help alleviate symptoms such as shortness of breath and coughing through extracting COVID-19 stem cells and turning them into a fine mist to be inhaled.
Dr. Alkaabi reflects on what the world can learn from these challenging times: "The most important thing is health. We should always invest in the health system. This is one of the things I will always tell people: Sit back and reflect on what we need to be doing in the future to change our way of living in the post-COVID-19 era."
Dr. Ayesha Al Memari
Dr. Ayesha Al Memari, an emergency medicine and critical care consultant at Al Mafraq Hospital, is the first Emirati woman to specialize in emergency medicine. 
She oversees the expansion and advancement of emergency medical capabilities as the chair of the Emergency Department, in addition to her clinician duties. Additionally, she has used her expertise to help advance the quality of organ donation and transplantation in the UAE.
In addition to her work within the UAE, Dr. Al Memari has also applied her medical expertise in humanitarian assistance. During stints in Yemen and Ethiopia, she served as the primary specialist in both Emergency and Intensive Care Units.
Dr. Al Memari says her satisfaction from humanitarian work is rooted in sharing her Emirati culture with others and creating individual bonds: "I consider myself as an ambassador of Emirati and Muslim women and I always try to set a positive example."
Engineering
Fatima Al Kaabi
A photographer robot, a Braille printer and a multipurpose solar bag with power lights, a fan and charging capabilities – these are only a few of Fatima Al Kaabi's inventions. 
After receiving the UAE Pioneer Award and being recognized as the youngest Emirati inventor at the age of 15, Fatima Al Kaabi has continued to pursue her passion for inventing and innovating. Today, Al Kaabi is enrolled at Virginia Tech studying computer engineering. She shares her passion by encouraging young girls to connect with female leaders though mentorship programs.
"AI is going to play a major role in our future and we need girls' and women's insights to make it work for our benefit. We need women to create things that fit our needs as a society and without their contributions, many of our needs might be ignored or misrepresented," Al Kaabi says.